[Preface]
Jump straight to the ride
With my recent success on the Huracan350, and always eyeing bigger and more challenging things, I decided to try to take on the TransNorthGeorgia route, which traverses the northern part of the state from South Carolina to Alabama.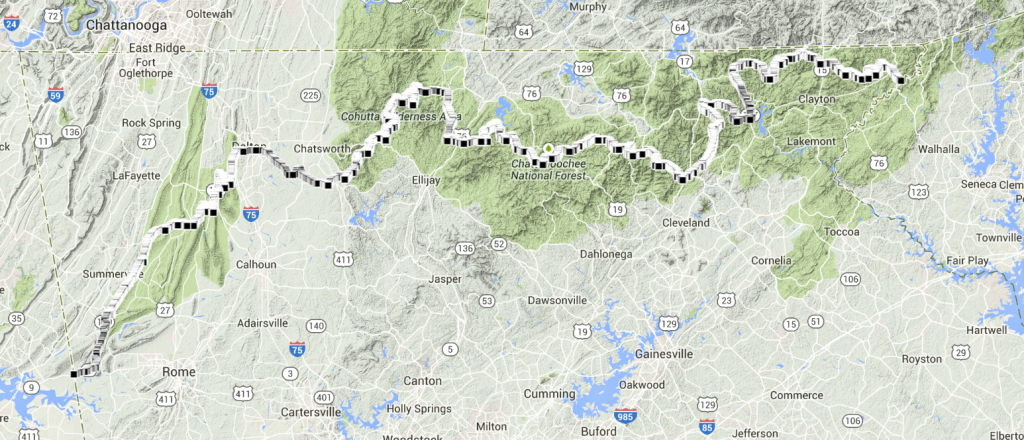 Like the Huracan, it's better than 90% dirt. Unlike the Huracan, this route is not flat. Over the same distance (325ish miles), it climbs upwards of 55,000ft vertically. For some perspective, The GreatDivide which is 2700+ miles, climbs 200kft, so this is somewhere on the order of 2.5x as much climbing per mile.

For a little more perspective, that little blip towards the end of the elevation profile between 255 and 280, that's Snake Creek Gap.
This is a serious route, listed as one of the top ten bikepacking routes in the US over at singletracks.com, with the warning: "If you're thinking this might be a good beginning bikepacking route to tackle, think again…"
I had no idea if I had the fitness for something like this, and even more absurdly, I wanted to complete this in the same number of riding days as I did the Huracan, 4. The longest mountain biking ride I'd done (in the mountains) was ORAMM, which at the time was something like 63miles, and I was blasted after doing that… on an unloaded bike.
Asking around for riding partners for trips like this gets you a lot of "woah, that's rad, nah, I can't though" and "I wish I could, but…" responses. But perseverance pays off and I eventually found someone as thick as I am to say yes. Kinzer, who wrenches at LooseNutsCycles (seen there on the left), was up for the challenge.
One riding buddy in, it was time to get packed and get things going.
[Prep] 
A quick word or two on gear: I made a few changes to my setup since the Huracan. I picked up a titanium Fargo frameset from LooseNutsCycles and snuck in an upgraded front wheel with a dynamo hub to keep my electronics juiced while I ride. I had planned on making a headlight for the system as well but due to some time constraints and rusty soldering skills, that didn't happen. I also grabbed a hydraulic brake for the rear and put a more mountain-friendly gearing on the drivetrain (smaller chainring 28T, larger granny gear 40T).
I also borrowed a Snacksack made by AndrewTheMaker from a friend after failing to stitch one up the morning before departure. I think this was easily one of the most useful pieces of cargo gear I've ever put on my bike. Easy to access, exterior pockets are great for holding my phone for quick grabs and stuffing trash etc in.
As per my usual, I did no riding prep for this. And due to an excessively wet two-to-three week period in Atlanta, I didn't even do a standard amount of riding around town. The way I look at it, that would have just been wasted calories anyway, right?
Because of his work schedule, Kinzer needed only had four days to do the trip and we had to start on a Sunday, so after work on Saturday Jessie and I picked him up from the shop and started our shuttle ride up to the border. A couple of delays didn't get us there until after dark, but since we'd stopped for food at the nearest town, we weren't too concerned about making camp in the dark.
The border of South Carolina and Georgia at this point is marked by the Chattooga River. The ride officially starts on the bridge, just west of which (on the Georgia side) is a small pull off and trailhead which appears to be a popular landing/launching spot for river-goers, as there were two cargo vans parked there when we arrived. I'd hoped for a clearing further off the road, but the trail was pretty overgrown so we set up camp just behind the vans and tried to grab some sleep for the big start in the morning.
Temperatures were comfy, and a small shower in the middle of the night had me fiddling with my bivy a bit, but then, I never really get much sleep on bike rides anyway, so I wasn't too upset.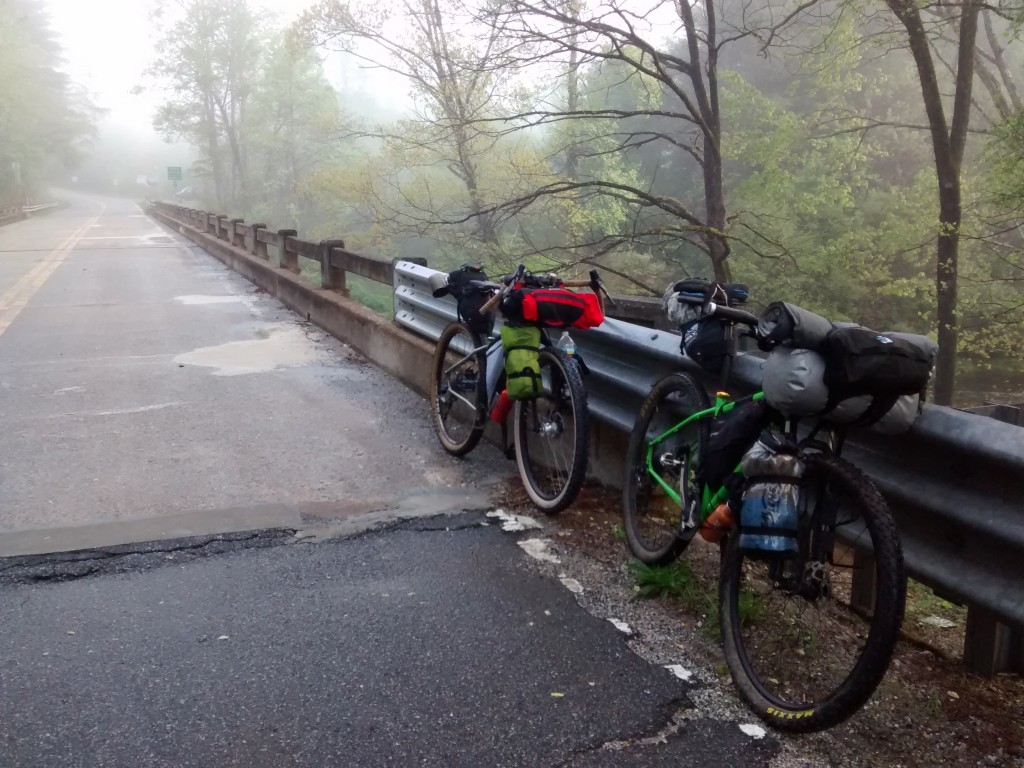 The fog burned off pretty quickly after we got on the road (a little after 7:30) and since the road wasted no time turning up, we dried out pretty quickly as well.
I don't really know what I was expecting this ride to be, but I sure wasn't expecting the rapid-fire dick-punching that the first twenty miles gave us.
The first 'trail' it hits (after several closed jeep roads) is actually a horse trail. Or was. The rhododendron have grown over and created a canopy that's barely more than 5ft high. A portion of the trail is barely distinguishable as anything more than a small game trail and caused us some considerable headscratching and bushwhacking until we got back onto a 'real' trail.
TransNorthGeorgia pays no dividends.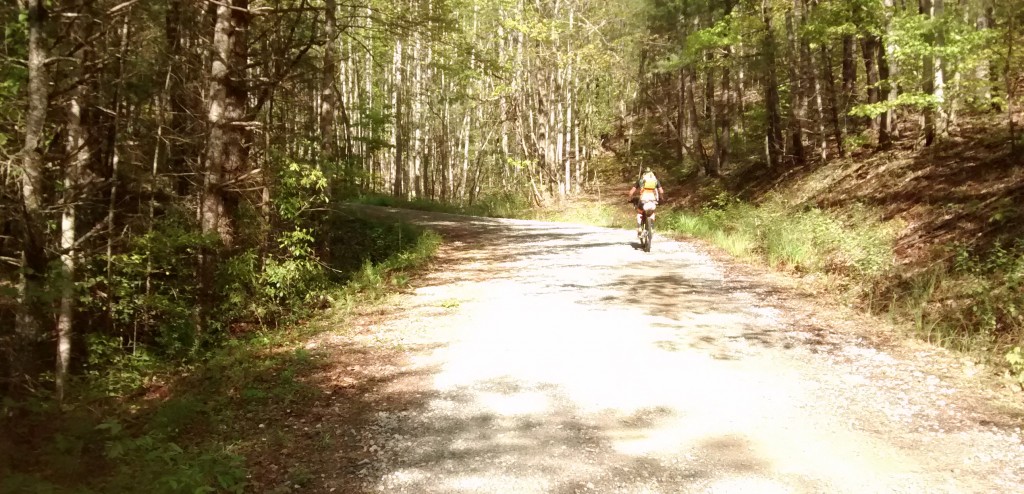 I'm used to rides where maybe you have tough climbs, but you deal with them because you get a sweet screamer of a descent afterwards (the payoff). TransNorthGeorgia pays no dividends. You deposit yourself into a hurtlocker and when the grade finally turns away from the sky you get a brief moment to look at the bill of goods you've purchased with your labor before the trail kicks you back into the hole. Large loose rocks, fallen trees, and ruts, all covered with thick duff keep you from letting loose on the bike and enjoying any stretch where you don't have to pedal.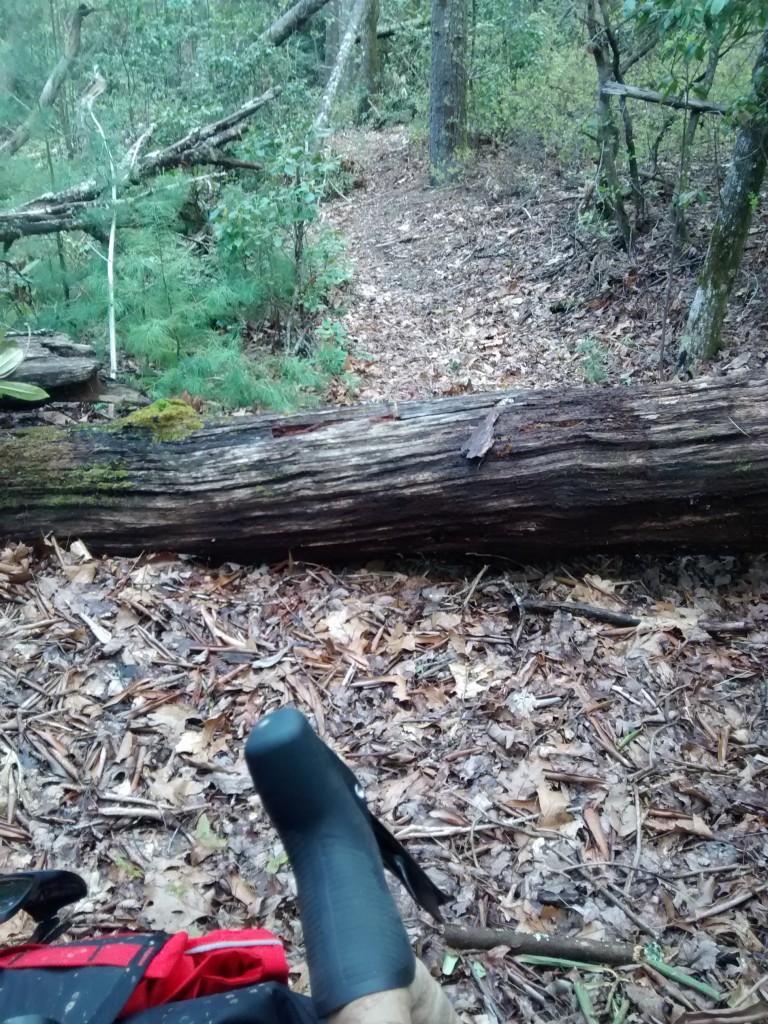 Your legs never rest. Constantly pedaling uphill with grades that seem to hover in the mid teens to low twenties and then constantly absorbing shock after shock while trying to throw a loaded bike around every notable obstruction on the path going downhill.
Detours and wrong turns are extremely costly on this ride. We quickly started to enforce the rule of thumb that if we arrived at an intersection, and it wasn't clear which way we needed to go, we should pick the path that goes up, because the route probably goes up anyway, but if we're wrong at least we wouldn't be faced with backtracking uphill.
The only real payoff anywhere to be had was the scenery.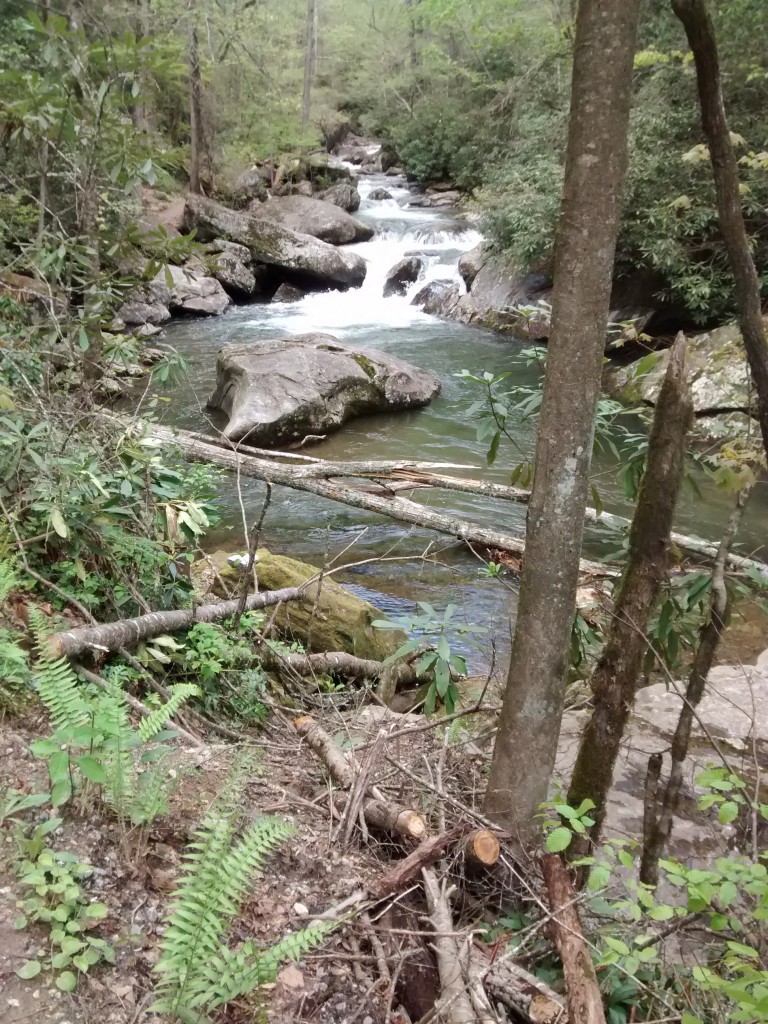 The only real payoff anywhere to be had was the scenery. North Georgia is saturated with beautiful mountain streams with crystal clear water and stunning views of the surrounding Appalachians.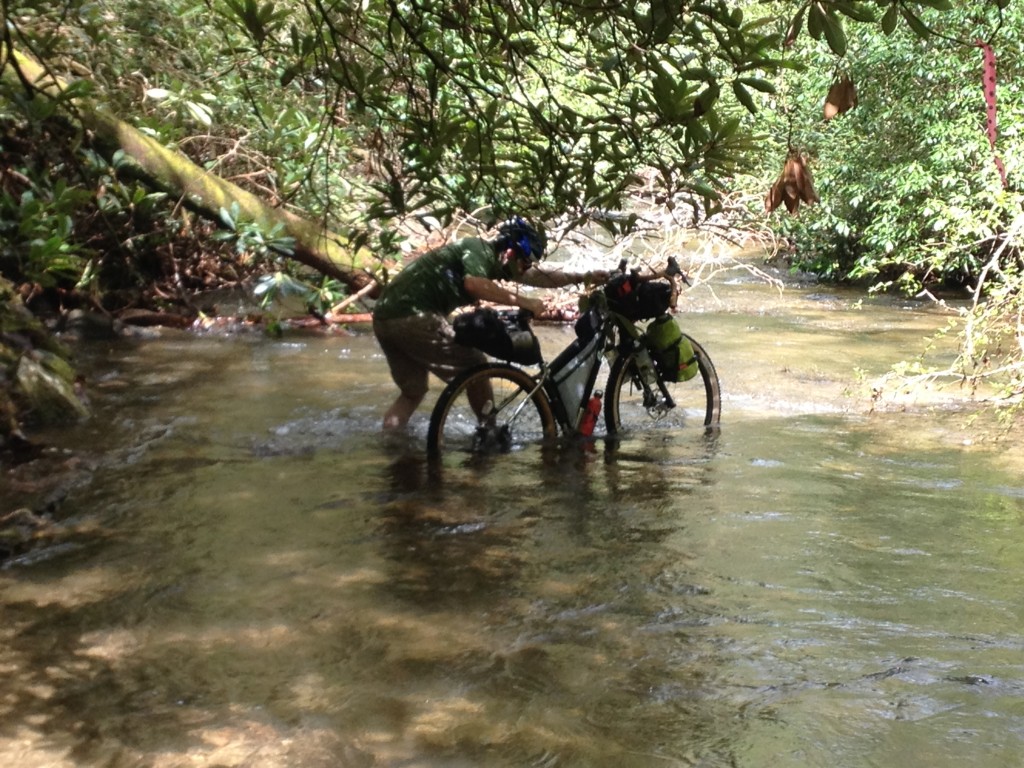 The route traverses dozens of creeks and streams, most are rideable, the most surprising of which was a fording of the Tallulah River at Charlie's Crossing.
One small water crossing was actually a dammed section of a steep creak drop which Kinzer managed to punch through and nearly lose a shoe to the vortex.
The shock of the terrain had me second guessing my ability to complete the ride for most of the day. I knew by early afternoon that my targets for distance each day were either unreachable, or would require riding well into the night, so I quickly made peace with falling short of ambition.
"this is the last bathroom on this road"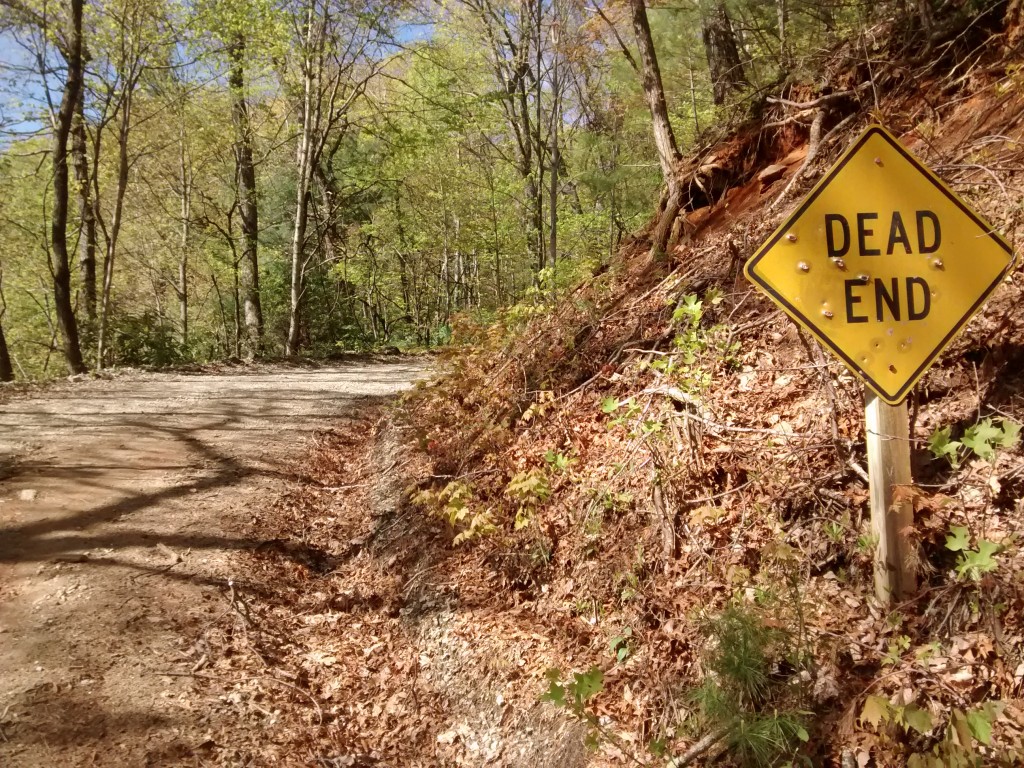 By sundown we were riding up the first of two large climbs to AT crossings at Addis Gap and Tray Gap (the pre-ride target for camp), and happened upon a developed campsite in the middle of the woods about five miles west of Lake Burton. The site was empty except for one other camper who sold us on the site with the pitch: "this is the last bathroom on this road".
I tend to prefer primitive camping to established sites, but after 70 miles and over 9000ft of clmbing, a picnic table and a toilet sounded pretty good. The alternative, of course was to keep pushing and make another 20 miles of climbing before camp. I'll sit, thank you… and do it all again tomorrow.
The day's ride: