I rode my first Snake Creek Gap today. The conditions were right on point for every mountain bike race I've ever done: cold, muddy, stormy.
My race started, as most do, the day before with an easy ride over to storage to pick up my weapon of choice: the Salsa Beargrease.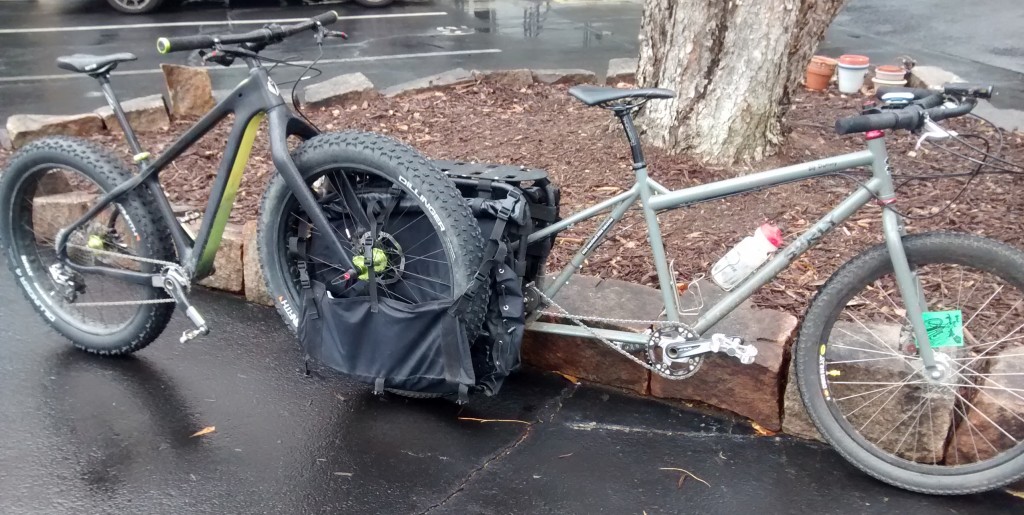 After speaking with some veterans of the race, I came to the conclusion that the ideal [pre-race] strategy was to have a driver and forgo the bus shuttle to the start. This turned out to be crucial for me as it gave me the time I needed to convince my bowels to do their thing before there were enough people at the start area to form a line. It's also really nice to finish a race and have someone waiting for you.
The forecast called for light rain during the event with increasing chances of thunderstorms as the day went on. The previous two days had dumped several inches of rain on the area so anything that wasn't a rock was either mud or a creek. Almost the entire race was blanketed in a thick fog that held visibility at something like 15 meters. I suppose there were some incredible views along the ridge, maybe I'll find out next time; I can say that the ambiance the fog created really helped me focus on the section of trail immediately ahead of me and not get distracted with 'big picture' worries.
Clearly the fat bike was the right choice. It definitely outperformed me today. Taking my propensity for choosing the worst possible line and laughing me through it. I found that many of the best lines in all but the gnarliest of rock sections was 'straight ahead'. The tires gripped and pulled me up and over just about everything.
Having never ridden the race [or the trail] before, and having two more installments to complete this year, I decided to use this as a recon ride and took the whole race easy. I stopped to force down a few energy bars I made the night before (fig, cashew, peanut butter, cranberry), had enough discipline to remind myself to drink water regularly, and overall had a good time.
I had my share of sections I wasn't able to clean, but I managed to stave off the psychological demoralization that so many I've talked to about this race seem to feel about the 'never ending' rock garden. Not to make it sound easy, I was certainly glad when the trail opened up and I was in the cul-de-sac leading to the final descent, but I was definitely expecting much worse, especially considering the ground conditions.
I'm looking forward to riding this again when I have some fitness and possibly dryer conditions and better visibility.
Today's Ride: