Fresh off the heels of a surprisingly good showing at the CFITT, I traveled back to Ocala, Fl at the end of January for another go at the HuRaCaN. This year, Karlos bumped up the timing of the race to the end of January instead of the middle of March. I think this suited everyone (at least me) well since 90+ degree days last year were just about my undoing. This year I was prepared. I had dialed my kit in and would be traveling fairly light.
A lot of the crew from last year was coming down again, some new faces too. For me, the HuRaCaN is a fun ride. I pace it to be a chill 4 days of riding with interesting camping. I had two goals for the ride this year: continue to have fun; and make sure that my buddy Sean finally made it all the way around the loop. After two previous attempts, he seemed like he'd finally gotten everything figured out and wouldn't really need much help from me, but I would be there either way.
[Day One]
Although the race would be starting six weeks earlier than usual, it would be starting two hours later than normal too, which even considering the shorter length of days in january versus late march, would mean that the race would start after sunrise. I could finally see the Santos trails!
Fully illuminated and with a fresh set of legs, Santos was a blast.
Starting in a pack of more than a dozen guys was cool, but because these trails are right at the start, and last for so long, they're a great place for people to figure out that they haven't properly secured little bits of gear, or need to adjust this or that on their bikes, etc. not to mention varying paces that riders want to keep, so by the time you get out of the trail your group has probably splintered several times.
After Santos and Ross Prairie, you start the long slog on the Withlacoochee rail trail. Something like 16-18 miles of flat, straight asphalt bike trail which connects over to the Citrus WMA.
Allegedly, the Citrus forest and parts of the Florida Trail north of the Croom mountain biking trails are a spot of contention between cyclists and hikers at this point. In 2015 a [policy change] was enacted that allowed "all non-motorized transit" along the Florida Trail. The rumor going around is that the great hiking lobby allowed this change but demanded that these particular sections remain exempt from wheeled traffic to be left solely to the realm of foot/hoof users. The matter is complicated for trail users by the fact that there was no budgetary allocation along with the [policy change] that afforded for the alteration of signage along the trail stating that bikes were not acceptable.
Enough coffeetalk.
Citrus is a beautiful forest. There are deep well-covered, old-growthy parts with rock outcroppings and caves and there are also areas where recent prescribed burns have occurred adding an eerie, other-worldly feeling to the landscape. A small change to the route this year kept us off one of the busier country roads on our way into the first checkpoint (but didn't keep Sean and I from having a truck roll coal on us).
After a quick refuel at Lake Lindsey Mall, including a double dose of their Cuban sandwiches, we headed off into Croom to a spot I remembered missing the year before. It's such an awesome spot that Karlos and his crew had setup camp there and were partying and yelling encouragement at riders as they climbed what amounts to the only steep technical climb in all of central Florida. Party camp, although awesome, isn't the best thing for you if you're planning to get some sleep. After several hours of tossing and turning, I decided to climb out of my tent and just sit at the fire until who-knows-o'clock when the last of the crew finally turned in for the night.
The day's ride:
[Day Two]
Fully nourished with food and comradery but not sleep, we broke camp and dropped into "The Vortex" to continue on our journey. It may be that we were hitting the trails earlier than most in Central Florida like to be out, but I felt like, for as nice as the weather was, we were met by very few (if any?) other trail users on the mtb trails in Croom. After we rejoined the Florida Trail, and shortly before we got to the [second] I-75 crossing, we did run into a group of day hikers. Possibly two dozen strong, they were at the top of a small wooded climb and very politely stepped aside and allowed us to pass through. Well, for the most part. Just as I was passing a woman shouting encouragement to us as we made it up the hill, I could hear the voice of an older man screaming "bikes need to stay on the bike trails. Hiking trails are for hikers." Good morning everyone!
Back to that I-75 crossing. I remembered it from last year [kindof], in that the route goes under the highway at a river, the river level was high and a lot of the trail was flooded, and I remember a rather precarious hike-a-bike along the embankment under the bridge. What I did not remember was that there was a fence, and that the better path was on the high side of the fence. No problem, after a couple seconds of staring at the water, this became evident again and I quickly turned my bike around to ride back to a hole in the fence and carry on.
At the hole in the fence I focused on the crushed fencing at the ground making sure I wouldn't puncture a tire riding over it, until that is I caught sight of a small object in my upper periphery moving towards my face. At the last second I yanked my head up and back and grabbed my brakes and managed to only get lightly hung up on the barbed wire line that was left at throat height.
Now it's an adventure!
After this, we traveled along the Withlacoochee for a bit, alternating on slow low trail laden with cypress knees and fast high trail free of any real obstacles. Eventually you pop out and come to the second checkpoint at Ridge Manor.
Ridge Manor is a strange stop in that it's a large gas station half of the building of which is vacant, but has a beach sand floor.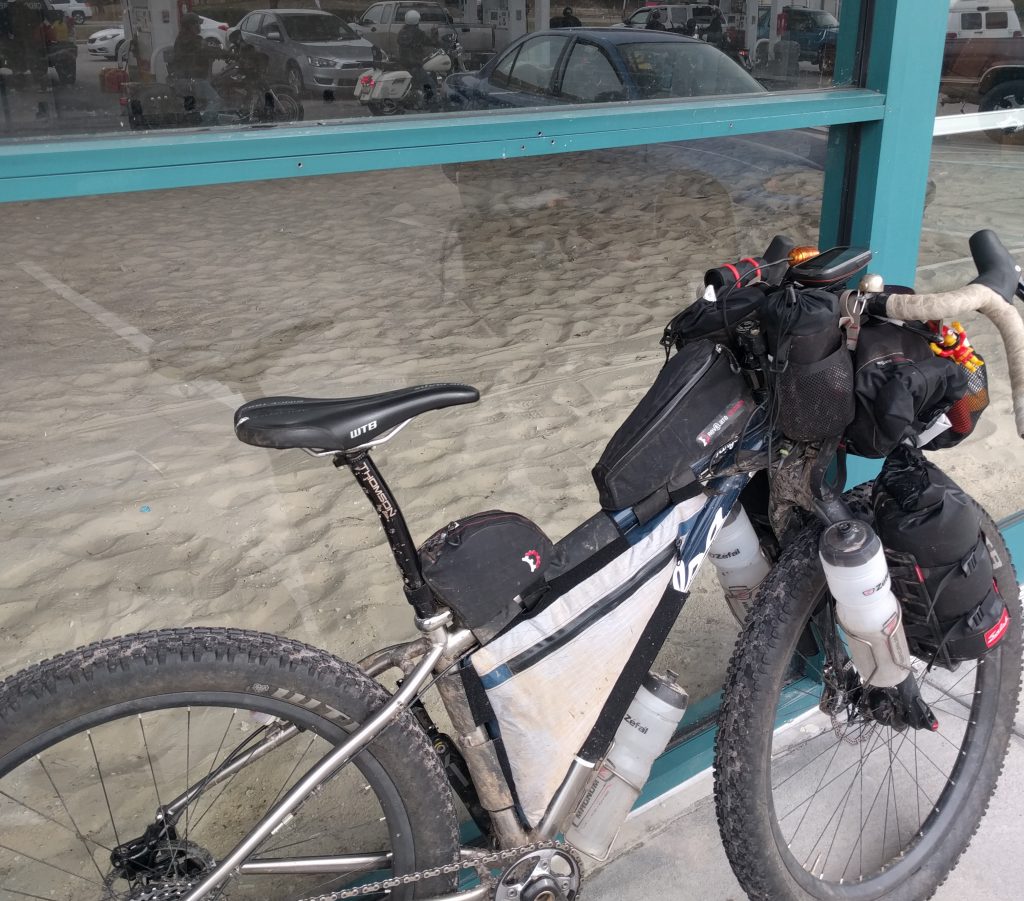 From here things were going to get a bit hairy on the route. A few last minute snafus had grabbed hold of the race organization this year. A late shipment of GPS tracking beacons caused a delayed start and confusion in general (especially considering a number of the units didn't seem to work, or worked only briefly), and due to some heavy rains, the infamous Devil's Creek which is the major hold-your-bike-over-your-head swamp water crossing was purportedly 6+ feet deep. Karlos was able to confirm this and sent out an email (at 4am race morning) [detailing] a reroute.
I've said for years that if you ask three people [or maps] in a forest [or swamp] what the name of a road is, you'll get four different answers. Karlos's reroute was no different. Mass confusion ensued. Fortunately, after having the GPS fail I had last year, I came overly prepared this year and I was able to reconcile Karlos's directions with lines on the map (whether they would match up with lines on the ground remained to be seen). I felt confident that I could navigate the swamp! Not everyone else felt that way and before we left Ridge Manor we had another rider hitching to our wagon for some aide in getting through the swamp.
Ed is a really nice guy, but if you're going to lead a conversation with "I don't really do maps", maybe backcountry sports aren't the best choice for you. We soon entered the swamp and it became very evident that Ed would not be keeping up with our (admittedly slow) pace. We offered to wait, but he sent us on ahead, so we decided to mark the turns as we got to them so when he arrived later, it would be obvious which way to go.
We failed.
We left poor Ed out there, in the middle of nowhere, with nothing other than a GPS he didn't know how to read. If you're reading this man, I'm sorry. We're both sorry Ed. We marked the first turn, but didn't realize until we got to the third turn that we'd neglected to put anything at the second.
Back to the detour. We followed it until we got to a very large water crossing. As there was no mention of a large water crossing, we stopped and contemplated our options for a while. Had we gone the wrong way? Was there another, possibly drier way to get around? Screw it. Let's just go.
On the other side, with a fresh set of dry socks, we set off to rejoin the route towards the south end of the swamp. Climbing up the lone section of dry singletrack in the swamp, Sean hit on his first mechanical. A slipped derailleur cable dropped him into top gear and ground him to a halt on the climb. At this point we also discovered that his rear hub seemed a bit loose in the bike. With the cable reattached but badly frayed and the hub slopping about, we decided that we'd stop at a bike shop in Clermont (the only major-ish town on the route) in the morning. In the meantime, we still had to make it out of the swamp.
As we rode closer to the dividing line between the western and eastern tracts of the swamp we noticed a number of hunters just milling about. We were stopped by a pair who asked us if we'd seen any deer and we concluded that there must be an organized hunt about to start and everyone was scoping out their spots. Time to get out of the swamp for real!
After the swamp is a short trip on the VanFleet (another rail-trail) over to the aptly-named Water road. This road is between 30-50% underwater. It's an undulating dirt road with massive standing water holes in almost every trough. In several places, small streams cut across the road and leave extended sections submerged. The water is all brackish making it impossible to discern a 6″ deep puddle from a 2′ deep hole. Ride at your own peril. This road is extremely slow going and by the end of it you're so ready to be done that you start taking chances at riding the water. I found myself pedaling thigh deep on at least two occasions as Sean looked on from the banks of the road.
Safely passed the hazards of the day, we strolled down to the southernmost checkpoint south of Clermont. I knew there was a Publix just up the road so I decided not to restock at the gas station, although I was pretty wiped by this point. We were very close to closing time for the Publix so we made quick (as quick as we could) work of the check and took off down the road towards real food.
I grabbed a sub, a coke, and an egg salad and sat outside on the curb trying to coax my brain into rebooting so I could make decisions again. Meanwhile, Sean was making multiple trips into the store grabbing a few things each time. Eventually we decided that our original plan of boondocking on the outer edge of the nearby state park was the right call and we headed off to try to find the spot we'd scouted on the map prior to the start.
Eventually we found the spot, hopped a gate and setup camp just inside the treeline. Day two had been a success.
The day's ride:
[Day Three]
The real judge of a campsite doesn't typically happen until the morning. Especially when you don't make camp until very late at night. This spot was one of the best I've had. Quiet, sheltered, and like the year before's second day spot, it also happened to have fruiting citrus trees at it! What it had that the previous year did not though, was direct access to showers!
Since we were 5 miles out of town and had to wait until 10 for the bike shop to open anyway, we were in no rush to get moving so we dropped down through one of the park service roads to the campground and poached showers.
Clean, and ready to tackle a major US highway and the Pyrenees of the Peninsula, we finally rolled out towards Clermont. After stopping in at Clermont Bicycles for a repair and being treated very well by the owners, we were ready to go on the MOST EPIC ROAD RIDE IN FLORIDA!!!!!
But seriously, there are some surprisingly steep hills on the outskirts of Clermont. They are much easier when the weather isn't 90+ degrees and you have a 40T cassette cog to sit and spin with, but still, never underestimate a place.
After the road riding is over, we turn into the area around Lake Apopka. This is the nexus of wildlife on the route. If there's an animal you think you might see in Florida, this is where you will probably see it. Gators galore (including a skeleton), but also bobcat this go around (three cats last year), and countless large and exotic birds.
Maybe it's because I was in better shape this year, maybe it's because I could see the route on my GPS, I'm not really sure, but most sections seemed shorter than the previous year. This was no exception. We stopped frequently to take breaks from the heat and sun but still made excellent time. The day's goal was to make it all the way to the river crossing and get through the Rock Springs State Reserve before daylight was gone. After riding this section at night last year, I had no desire to add complications to the already difficult navigation that this place affords.
Trails so thickly overgrown there's little difference between the correct route and bushwhacking. It's anything but trivial to recapture the trail after it's cut by a fire break. All of this is foreshadowed by the entrance into the Reserve. You ford the Wekiva river into a bog, which, after two attempts I have never been able to easily reacquire the trail. You cross the river and then meander in thick palms and yucca until eventually you happen to cross what looks like it might be considered a trail. If you're lucky, you happen to cross it at a spot with a blaze and you're on your way, if not, you probably keep meandering for a bit.
Barely a hundred yards after the river, you do make it to a service road though so it's really just a short (but long) bushwhack to get away from the river. At this point we had our close encounter of the trip. Bear!
We'd just started on the service road when I noticed a large black mass obscuring a tree just to the right of the road. "BEAR!" [brake screech].
Ahead of us and just four or five feet off the path was a bear, standing with its back to us, scratching a tree trunk about 7 feet up. Big bear. The sound of us stopping finally caught its attention, so with its paws still on the tree, it turned its head around, looked at us, lowered its arms, turned around, and plopped, right on its ass, resting its back against the tree trunk, facing us.
And so the battle of wits has begun!
In retrospect, it might have been best to just charge the bear, but try getting that decision passed any of the primal self-preservation instincts inside of you. Instead we stood there, yelled, waved our arms, stomped our feet, etc in what was a futile attempt to scare the bear off. Eventually I remembered I'd brought a speaker along on the ride, so I turned it on, cranked up the volume and hit play. M.I.A. came out of the speaker…
Finally, with a body language that transcends bear-english interpretation, the bear sloughed over as if to say "whatev" and started to leisurely amble away from us. At this moment I stomped the pedals and screaming at the top of my lungs, sprinted passed where the bear was. A hundred or so yards later, I came to a stop to check on Sean, who I had apparently caught sleeping. I can't imagine what had been more pulling on his attention than the bear we were standing face to face with, but something on his bike had distracted him and he'd missed my jump. He finally made his dash and once we were safely passed the bear, it was time to play find-a-trail.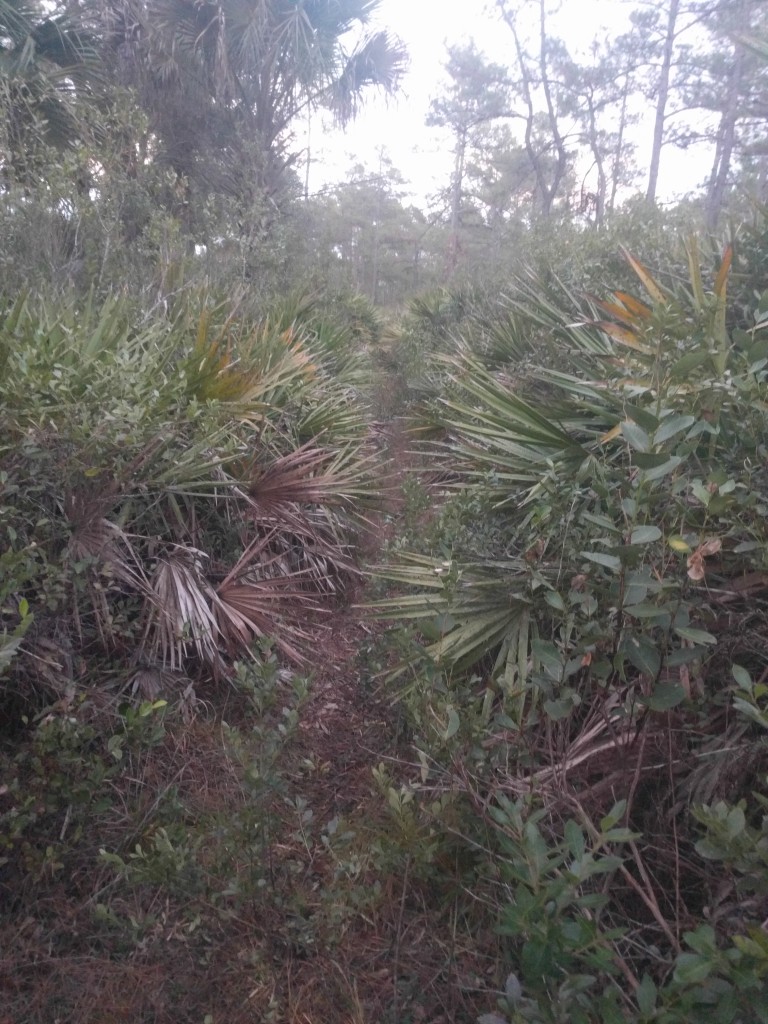 After a false start or two, we finally had the trail, right as dusk was setting in. I was in no mood to be out here any longer than I had to, and I had adrenaline surging through my veins and British hippop on the speaker, so it was mash time. I plowed through the woods. I gave no thought to whether or not there was trail underneath the cover of palm fronds, I just buried my head and turned the pedals.
Sean, for all his faith in me, decided the best thing to do was to just stay as close to my wheel as he could, and he did.
We blasted out of the thick onto the final road towards the Jurassic Park gate at the edge of the forest. We'd been in contact with a couple of guys from Atlanta (Ron and Jordan) who we thought were just ahead of us at this point (part of the reason I had been rushing through the woods was to try to catch them). Turns out they were waiting at the next tract of forest just down the road. We finally got to them, regrouped at a game cleaning station and started to hatch a plan for the evening. I knew a good spot off the trail towards the end of this (Seminole) forest and everyone seemed to be cool to stop there for the evening.
Everyone that is, except for the loan hiker who had already laid claim to the large campsite and had already posted up in his hammock for the night (not half an hour after sunset). After barging in on his camp, we decided to press on. There were some potentially shitty sections that lay just ahead, and crossing them in the night would be no more difficult than doing so in the day time. If we made good time, we might even make it to the next checkpoint store before they closed for the night, something Ron really wanted to do since he was very low on water and other sundry.
So on we pressed. We rolled Maggie Jones road with a very unrushed, chill pace, and again, before we knew it, the trip was over and we had arrived at Paisley.
Sean assumed we'd be camping at the previous spot and wouldn't make it this far so he'd been carrying a camp beer in his pocket since before all of the forest traverse. Upon arrival at Paisley, he went in, purchased a fresh beer and swapped his pocket beer for a cold one. Once again, restocked and ready to go, we cruised a short trip to the nearby Lake Clearwater campground. By this point it was late enough that no one was stationed at the entrance, so we just picked an empty spot and made camp, content to settle up in the morning.
But first, it was time for some good old campsite partying. Sean and I checked in on the rest of the crew, two of whom (Rob and Drew) had managed to make it through half of the swamp, but then had apparently missed a turn (well, they actually made the turn, and then turned back) and were several miles off course, seemingly in the middle of the woods. Two more (Tyler and Chris) had made it to the checkpoint south of Clermont and had posted up at a local watering hole to await extraction.
The day's ride:
[Day Four]
With some extra miles tacked onto the previous night, we could get up in the morning and enjoy a shower, drink some coffee, and look forward to starting immediately on some of the best trail on the entire course. Ocala National Forest.
This section of riding really is the payoff for all of the muckymuck that comes before it. Gorgeous, flowing trail that cuts through beautiful forest. Truly sublime. The only thing that degrades the experience is that it puts you out on a forest road that travels around a naval bombing range. The road itself is miles long, straight as a ruled line on a map, but undulating clay/sand. In a bizarre trick played on the mind, the road appears to make long ascents and descents over its course, but in reality it's more stepped, such that the "descents" are really flats.
The fates would smile on us this day however and we were blessed with a tailwind and again made (what I felt) excellent time around this and over to Marshall Swamp, the final bit of trail before the end of the ride.
Previously, this had been a baneful experience for me. I felt lost and at the end of my rope the first time I road through Marshall Swamp. The next time, on the CFITT, I passed through it in a delirium of excess mileage and could scarcely differentiate it from the rest of the ride. This time, I was feeling good, and the trail was really fun. It's low trail, but twisty. The turns have swampy ruts but they also have berms so if you take them right, you stay dry, and fast.
Once out of the swamp me made a quick pitstop at a final gas station for some calories and fluids, and then headed the last few miles back to Santos. A job well done.
The day's ride:
[The aftermath]
Sean and I had dropped both Jordan and Ron in Ocala, and decided to order a couple of very large pizzas in anticipation of their arrival at the finish. While we waited, and eventually feasted (gathering up the mental fortitude to drive across the state for teammate extraction), we checked in with the rest of the crew. The two wanderers had made it to the watering hole and met up with one of the two guys who'd been there the night before. Chris, had apparently woken up at the watering hole and decided that he would not simply wait for a ride, that he would push on and attempt to finish the ride.
We tried to walk him through the rest of the route so he would know what to expect. Specifically, I warned about attempting to traverse Rock Springs without daylight on your side. I made mention of bear and barely navigable trail. I offered my opinion on a cutoff time for crossing the Wekiva River in order to safely make it through Rock Springs. Almost an hour and a half after my recommended cutoff time, we received a text from Chris: "just crossed the river, now what?" … "keep going. DO NOT attempt to camp in there."
I vaguely remember, as we were sprinting out on the final road towards the gate, seeing a small sign fly passed my head, on which I made out the words "warning" and "burn" but nothing else, and as I was leaving the forest, whatever warning there might be, clearly would no longer concern me. As it turns out, this was a warning of a prescribed burn which was to happen, on this day.
Chris crossed the river, into an overgrown, bear-infested forest… which had been set ablaze!
He may have had the greatest challenge in crossing this forest, and may also be the last person to face such a challenge for some time as the burn, hopefully, will have cleared a lot of the overgrowth away and will make Rock Springs an entirely different part of the course next year.
I can't speak to all of his trials, but he did eventually make it through, and would finish the ride the following day, to carry on the time-honored ToeCutter tradition of #DFL.